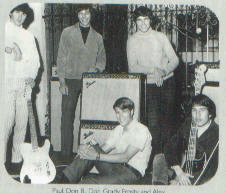 Yellow Balloon was formed by
Gary Zekley
To Begin the Balloon story you have to first begin the Gary Zekley story. Zekley first break came when Jan Berry recorded one of Gary's songs "Ace of hearts" in the early 60's, Later working with Dean Torrence, he landed a solo single "Other towns, other girls", which would later be re-recorded by "Jan and Dean" for their "Ride the wild surf" Album, it however was changed to "The Restless Surfer". Zekley kept working on writing and recording, none of the songs ever charted. In "63" he was present when Jan and Dean recorded "Surf City". Zekley was now busy learning to produce. teaming up with Dick St. John, he was able to create some more songs two of which Yellow Balloon would record "Baby baby it's you" and Can't get enough of your loving". During the years Zekley and Jan and Dean still kept in touch musically, When Jan was involved in his major accident in "66", Dean turned to Zekley for Material. Which was given "Here comes the rain" was recorded as "Like A summer rain". Released by Jan and Dean. It was released the same week as the Beach Boys "Good Vibrations" came out. Work began on a Dean Torrence Solo album that would be released as a Jan and Dean album. "Save for a rainy day" The opening track would be "Yellow Balloon". Zekley who was present when Dean began recording "Yellow Balloon" was not happy with what he heard, That's when he decided to record it himself, Leaving the studio, he went out knocking on Doors. In His own words
" I went into office after office until somebody saw me.. And it was "Canterbury Records President "Ken Handler who let me into his office, and I just sat down at the piano and played him the song and said "Man, this is a hit song", He said "You're Right, it's a great song. So I said 'Here's what's going on. Jan & Dean are putting this song out, we gotta beat them out with the song, He said 'Ok'. and he just stopped the presses, and we like, put it together very fast."
Soon after, Dean released his version of "Yellow Balloon" the same time as "Zekley's version. Zekley turned out to be a Huge hit (He released it under the name "Yellow Balloon") but, there was just one problem there was no band!! The search was on to Put together a real "Yellow Balloon", Canterbury had a young solo artist who was in search for a band His name "Don Grady" and in Grady's on words "I was doing my My Three Sons, and I was going around doing these telethons during the weekends. In the evening, when I'd go out to eat, take a break or something, I'd just go to the best club that people said was in town, and I would go and check out the bands, cause I've always been into music. Whenever I would come across a remarkable player, I'd get his name and number, just because I admired him, and I thought 'Well, gosh maybe we could work together sometime". Then my manager, Mike Casey, and I were coming back from one of these trips, and one of us said "Wouldn't it be cool to put together a band of all these great players from all over the country?" Well, about that time I had signed a record deal with Canterbury, which was Ken Handler's record label. Ken's parents were the founders of Mattel Toys they had created the Barbie and Ken Dolls." During which time "Yellow Balloon had been playing on the Radio " I said 'Let's put together this band of these guys that I've been meeting.' So everybody was like. 'Yeah, sounds great!"
<![if !vml]>
<![endif]>
Before joining "Yellow Balloon" Don Grady had recorded a song for Canterbury "The children of St. Monica" which was given some air time. (He recorded this song with his band "The Windupwatchband.) He also was a star in the hit TV Show "My Three Sons" he played Robbie Douglas. Gary Zekley noted "Don Grady is a very, very talented guy", Grady could play piano, guitar, bass, trumpet, drums, he was a good dancer, and Great actor.
<![if !vml]>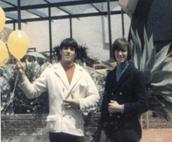 <![endif]>(Paul and Alex before "American Bandstand)
Lead vocalist Alex Valdez and guitarist Paul Canella had been performing with a cool Tucson, AZ garage band with a couple of singles called "The five of us". They were to meet Don Grady through a disc jockey, which Don called to ask if he knew any players for his band "The windupwatchband". Alex and Paul went to audition for the band, they would later come back home to Arizona, but return for "Yellow Balloon".
The next two members were Bassman Don Braucht and Forrest Green. Don B. was in a local band called "The Breakaways" he would leave them to Join "Yellow Balloon", Forrest was with "The Rising Sons'' who toured with Don Grady.
Next up for the band, was now getting ready to tour together. Grady became the drummer while at shows (Disguised with a blonde wig). Alex took lead as the singer. The band would appear on "American Bandstand," "Upbeat," and more. The Yellow Balloon had taken off!!!
The album was very good with some rather well written songs. Highlights would be "Follow the Sunshine" and "How can I be Down" written by Zekley and Jill Gibson who had briefly replaced Michelle Phillips with the "Mamas and the Papas". Other songs were also good like "Stained glass Window" and "Good feelin Time".
Soon, the public would find out who the Balloon drummer was. A contest that was ran called "Guess who the mystery Drummer Is" would identify Don Grady. Grady also became busy with "My Three Sons" which would cause Dennis Dragon to fill in on weekday gigs with the band. Canterbury records also began to shut down. Green decided to return to school, while Valdez recorded some solo stuff before the closing of Canterbury. Yellow Balloon still made appearances for a year, but never went back to make another record.
Zekley would go on to pen two songs for the "Grassroots" "I'd wait a million Years" and "Sooner or Later". Don Grady continued with "My Three Sons" but leaving before it's final season. Today, Grady scores films and documentaries for different projects. (Grady was also a Mouseketeer when he was young.)
Gary Zekley passed away in 1996.
Yellow Balloon, was a fascinating Musical Journey Through the coolest time of the century. The "60's". *